My dear friend Jody came over last night for a bit of dinner and some back-deck astronomy. She is owner of the finest grade telescopes and a wealth of brilliance in the realms of the stars, both the ones she clothes by day (wardrobe for film) and the ones that hover by night (wardrobe for the galaxy).
I do confess a bit of relief that the authorities were not called. It did look like two comfortably-dressed girls had set up what looked not unlike a superior-grade long-distance missile on a back-deck. And had it trained on first the neighbouring planets and then a highly unfortunate pair of curtains in a nearby high-rise.
Anyhow. See below amateurish attempts to archive for eternity. (SO.COOL.)
(Curtains in high-rise were drawn and not worth recording.)
greenCheeseMoon as viewed from my back deck.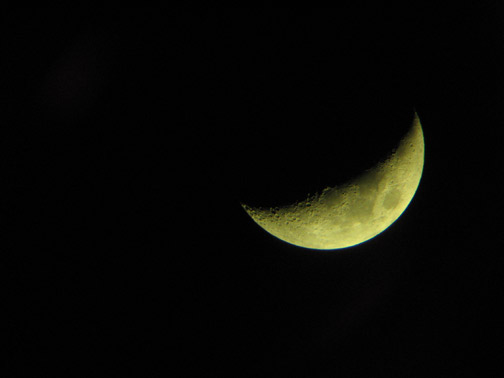 Through the Looking Lens.